Custom Dropper Bottles from Rowell
Glass bottle with dropper is suitable for every industry's packaging needs, it is not only used to preserve essential oils, but also can be used to store various other products. Our dropper bottle usually consists of a lid or a press pump head, a rubber head and a glass bottle or PETG plastic bottle.
The bottle is made of high-quality glass materials, and has the advantages of chemical resistance, and durability.we are a professional glass bottle supplier and offer OEM/ODM and customized designs and your laser logo.
Common colored glass for essential oil bottles with dropper : Brown, Clear, Blue,Green.
In regard to light protection, more opaque the glass, the more protection it offers against oxidation.
This serum bottle with dropper is made of high grade glass. Glass material makes this bottle reusable and eco-friendly.
Choice of capacity and unique design based on your product.
Lotion bottles are available in volume from 50ml to over 500ml, and can be used with dropper and lotion pump.
Using for storing lotion,essential oil, serum, cream and skin care, etc.
Dropper
Different styles of droppers.
Silicone bulb tip,easy to absorb liquid.
Nature glass pipette clear scale.
Thickened collar with durable and stable function
Glass Pipette
Glass or plastic materials.the inner plug are available.
The length of the dropper is generally 5mm from the bottom.
The dropper can be made with a scale.
Cap for Dropper Bottles
Variety selections of caps, free to match
ordinary caps, tamper evident caps (with large and small heads), childproof caps.
Rowell Dropper Bottles Features
Eco-friendly Material
Our dropper bottles are environmental friendly non-poisonous and high brightness glass.
Refillable and Reusable
Anti leakage with good sealing,One bottle is multi-purpose, easy to pack.
Leak-proof Design
Ensure that the matching closure will have a tight fit to protect your natural products from being tampered with or from leakage.
Stable Color Coated
Stable color coated artwork ,Special lacquer anti essential oil,Block the light completely
Variety of Bottle Shape and Color
Rowell offers bulk glass dropper bottles , we have variety of bottle shapes and color options for your business.Square and cylinder shape are widely used in the market .
There are five colors for essential oil bottles,amber,green,cobalt blue,nature glass and black .Logo in any style can be customized on the bottle.
Different Volumes and Neck Sizes
Our dropper bottles can provide the following capacity, 5 ml, 10 ml, 15 ml, 20 ml, 25 ml, 30 ml, 50 ml, 100 ml,150 ml,etc. are available.
Neck size of the essential oil bottle is 18 mm. Boston bottle mouth is with generally 20 mm, 22 mm, 24 mm, 28 mm, and the thread is 415, 410, 400 points.
Bottle Craft Work
Rowell has professional manufacture process of glass dropper bottles,we offers a wide range of craft options.
Bottle color coating is generally divided into solid color,transparent color and gradient color,including white, black,amber,natural, and more.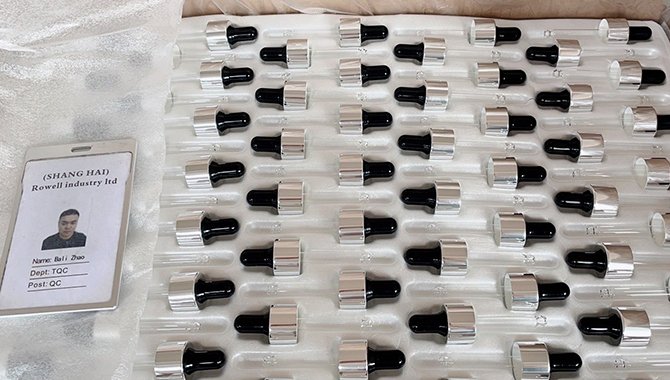 Packing Methods of Dropper Bottles
For glass pipette&rubber, customer could choose to pack seperately, or assemble together, guaranteeing cargo in good condition to arrive customers' place.
Dropper is assembled with blister pack, it is with dust proof function and safety, to ensure each dropper is intact during the transportation, and to ensure each collar and rubber top is clean.
Why Choose Rowell Dropper Bottles
One-stop Customized Service
From glass bottles (capacity, bottle shape, color, diameter, surface technology, etc.) to accessories (collar, dropper, cap, etc.), logo private labels and boxes packaging can be customized.
High Quality Material
The bottle is made of high-quality glass, thick material, high transparency, delicate and durable, not easy to break. We have strict product quality control process, professional QA and QC testing and provide reports.
Certified Standard
All our bottles are fully certified by ISO 9001:2008 certificate.Every glass bottle is produced with strict quality control processes to guarantee to provide you with better products.
Surface Handling Customization Options
i love this round dropper bottle sample! very professional & good quality product will be purchasing again.

All well as everithing! no leakage and vials fall off awesome glass dropper bottle, i like it very much.

fastest shipping ever had, delivered what was promised. glass bottle, cap, dropper pipette assembly package without any damage best supplier for us.