Rowell Car Perfume Bottle Manufacturers
We have variety styles of diffuser bottles, car air freshener empty bottle.Usually two styles,one is hanging empty bottle,with rope,cap and plastic plug.The other is empty bottle with vent clip,mainly clipped at the air outlet of the car air conditioner.
Car perfume empty bottle are convenient to use and carry, mainly used to fill solid or commercial diffuser substances.Rowell provides any custom service, please get the latest quotation.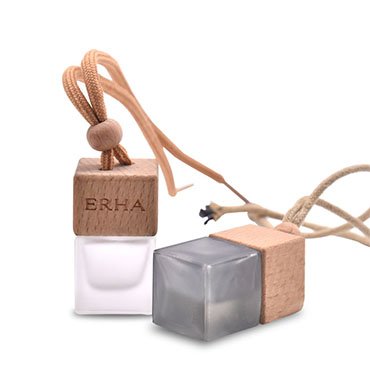 empty 10ml frosted craft square car fragrance diffuser glass bottle
air freshener car perfume bottle with cotton string and inner plug
with laser logo wooden cap,can be printed private label logo
5ml ball shape mini hanging air freshener pendant
car perfume diffuser glass bottle with wooden cap and inner stopper
clear/frost or color as customer's requirement
3/5/7/8/10/12/15/20ml or customized
5ml square shape glass empty hanging car perfume bottles
gold/sliver/black plastic cap or wooden cap
with plastic inner plug,we can supply different size
10ml Clear Apple Shape Car Diffuser Bottle
10ml or customized capacity. clear apple shape car perfume glass bottle
natural wooden screw cap with hanging rope.
with plastic inner plug stopper prevent the leaking problem.
7ml Diamond Shape Car Diffuser Bottle
7ml empty crystal diamond cut shape air freshener car diffuser glass bottle with inner plug
with triangular laser logo wooden cap
Gradient color coated or customized color
15ml Pink Refillable Car Diffuser Bottle
15ml empty car perfume diffuser bottle with plastic inner plug,pink clear color
natural wooden screw cap with hanging beech wood shrinker string
Rowell Car Diffuser Bottle Advantages

Design of Variety
From the capacity, size, color of the rope, to the shell of the car diffuser bottle, we have various styles, and can also be customized according to customer requirements.

Laser Logos
We can design a unique logo on both the bottle body and the cap of  car perfume bottle, and make a unique personalized design for you to make it unique and more attractive.
Different Capacities
The capacity of the car diffuser bottle is 1ml,2ml, 3ml, 5ml, 7ml, 8ml, 10ml, 15ml and various sizes meet the needs of different customers.
Match with Diffuser Sticks
Our car perfume bottle can match different aromatherapy sticks, the fragrance of natural rattan sticks lasts longer
Custom Process
Based on the customer's requirements for the car perfume bottle, you can provide us with product drawings, and we will make it according to your requirements.
Custom Cap Options
The inner structure of the cap is tailor-made according to the bottle mouth, and the outer part of the cap has a variety of shapes for customers to choose from
Rope to Hang
Various colors cotton rope with certain flexibility can hang the car diffuser bottle inside the car and keep the integrity of the bottle body when the car is moving forward.
Why Choose Rowell Car Diffuser Bottle
Price or Quotation
For each of our customers, in addition to the quality control of the products, we are committed to giving the price advantage of the same registered products, so as to obtain more cooperation possibilities and future.
Logistics Guarantee
It is our basic philosophy to provide every customer with products and information in a timely manner, because guaranteed delivery is the basis for long-term cooperation, and convenient land transportation and rich experience in customs declaration make it possible.
Quality Inspection Team
As a team with more than 14 years of experience in quality inspection in the industry, our quality inspection team has strict requirements on raw materials, workshop production lines, and finished products.