Rowell Crystal Perfume Bottles
Rowell crystal perfume bottle usually is cute and delicate bottle, we can make good use of these little bottles as ornaments. Let us clean the empty perfume bottle and put some pretty flowers or colored bells in it. we can pour other skin care liquid into the perfume bottle and reuse it when the perfume liquid be used out.
50ml Bottom of volcano crystal perfume bottle.Round resin cover with crimp neck,clear glass bottle to fill colorful perfume liquid,it makes the perfume more high end.
Luxury 50ml empty red color coating round perfume glass bottle with sprayer,fragrance parfum bottle with gold aluminum outer cap
8ml empty pink semi-transparent round sample sack perfume glass bottle with alu sprayer and square cap,15mm crimp neck and well sealed.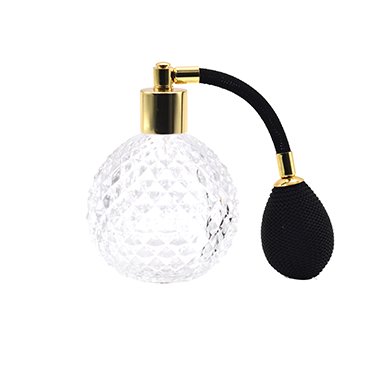 90ml Crystal Perfume Bottle with Atomizer
90ml customized design refillable perfume glass bottle ,art vintage style flint glass, with atomizer long bulb sprayer.Welcome to create new mould to have your own design perfume bottle.
Crystal Diamond Perfume Bottle
Unique design crystal diamond shape perfume bottle,empty glass bottle for perfume use, with purple diamond shape pump spray cap.
30ml 50ml Unique Crystal Perfume Bottle
Crystal perfume bottle with various types capacity for choice.We can make logo print by silkscreen on the bottle surface treatment.It will make the bottle looks unique.
Crystal Perfume Bottle Advantages
Various Styles
Square,round, cylinder,hexagon,diamond and other shapes, thicker or thinner bottom and ODM or OEM is workable.
MOQ Flexible
We will make some stock usually, the MOQ is flexible if there is stock. Different types for choice.
Processing Customized
color coated, logo silksceen, logo hot stamping, frosted,decoration firing,polishing craft on the bottle surface.
Fast Delivery
The delivery time will be 45 days if there is no stock. The delivery time will be 1 week if the stock is available.
Custom Color Coated
For the crystal perfume bottle, we can provide clear natural bottle and color coated bottle.Kinds of color to meet your market requirement. Unique design makes your brand more noticeable.
Metal Tad
We can make the metal tag on the crystal perfume glass bottle , the metal tag can be made gold or silver or black with your logo.
Why Choose Crystal Perfume Bottle from Rowell
Bottle Shape Options
Crystal perfume glass bottles, cosmetic glass bottles have been quite rich today. In addition to square, round, heart, crescent, cone, inverted trapezoid and so on can be described out of the shape, there are many strange shape can not use language to describe the shape.
Luxury Bottle Design
General crystal perfume glass bottle and other transparent perfume bottles are mostly light,semi-transparent color coated makes the bottle luxury. The thick bottom design makes the bottle look more attractive
Eco-friendly and Non-toxic
The crystal perfume glass material is lead-free and harmless, with good barrier performance, which can well prevent the oxidation erosion of various gases on the objects in the bottle, and can effectively prevent the volatile components of the objects in the bottle from volatilizing.