Gel Polish Bottle Wholesale from Rowell
Transparent nail polish glass bottle are coated with solid customized color, that is for GEL polish oil products. 3 layers color coating ensure 100% light-proof, it can protect the gel polish oil from being dried after filling.
matte color, shiny color both can be customized according to pantone color number or real color samples.
the color coating is stable enough and will not fall off when touching or scratching.
15ml oval/oblate design empty glass bottle,also with 7.5ml 10ml same shape bottle supply
Customized single color coating and dual color coating, with window indicator
0.5oz square glass bottle with 3 layers color coating for gel polish oil
Natural wooden cap customized size with inner plastic cap and brush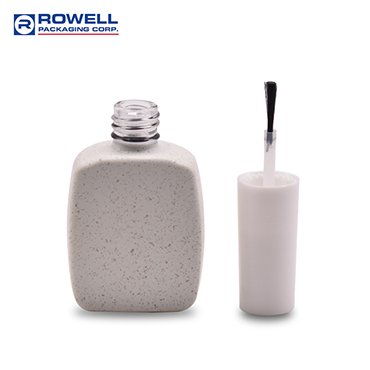 10ml Matte White Nail Gel Polish Bottle
10ml flat square glass bottle coated with matte matte white with dots
Injected plastic cap and UV plastic cap
9ml Matte Black Nail Gel Polish Bottle
9ml cylinder glass bottle coated with matte black, matte white, shiny white, shiny black, 100% light proof
Injected plastic cap and UV plastic cap
15ml Square Pink UV Gel Polish Bottle
Pink color coated 15ml square glass nail polish bottle for gel polish oil

Luxury design double wall plastic cap with gold inside
Gel Nail Polish Bottle Features
Eco-friendly
all glass bottles are eco-friendly material made, can be used recycled.
Light-proof Color Coated
3 layers color coating make the bottle 100% light-proof to protect the Gel polish from dring.

Customized Capacity
differenct volume from 3ml to 20ml bottles all are available, with sqaure or round or other shapes.

OEM & ODM Brush
Bottle Shape Options
Every empty nail polish bottle can be costomized as your requests,you can choose from our bottle option.
Nail polish bottle with bamboo cap
Crystal nail polish bottle
UV gel nail polish bottle
Cute small nail polish bottles

Customize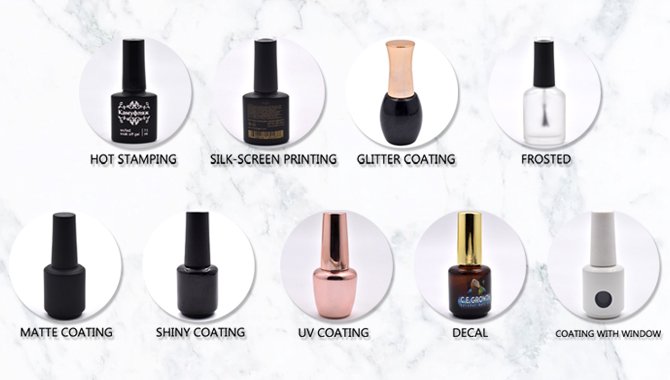 Surface Hanlding Options
Our nail polish bottle craft has a professional process,we can provide a variety of customized logo services and surface hanlding:
Single Color
Two Colors
Silk Screen Printing
Hot Stamping
Label and More
Package Size Options
Regarding to nail polish glass bottle, plastic cap, and nail polish brush, we have different packing methods to protect the goods safe and intact during transportation. all package size are customized according to your order.
Production Equipment of UV Gel Nail Polish Bottle
Automatic Machine
most nail polish glass bottles are produced by automatic machine. it can be produce 16pcs or 32 pcs glass bottle at the same time. daily capacity is about 1,000,000 pcs bottles.
Machine For Manufacturing Brushes
Our nail polish brushes are replaceable and different design types, such as thin,wide,small nail polish brush etc.daily capacity is about 50,000 pcs brushes each machine.
Types of Nail Polish Bottles
Our nail polish bottle is made of clear flint glass ,durable and travel-friendly. Provide various types, vintage, uv gel, unique, luxury, cute, crystals nail polish bottle, etc.