About the sprayer
The sprayer color can be customized like black, silver,gold and other color is workable. The material of sprayer has aluminum and plastic. Usually the small mouth of the bottle is matched with aluminum sprayer such as 13mm or 15mm neck.How to identify the quality of the sprayer?The craft has electrolysis and foam material,the high end type is electrolysis and it can meet all the market requirement usually. For the length of the plastic tube of the sprayer, it will be adjusted according to the bottle size, usually, the length of the tube just touches the bottom of the bottle inner bottom,which helps to create a fine perfume spray when we use it. The sprayer has two neck can be selected like screw and crimp.Screw neck is simple to assemble and the bottle can be reused,it's favor for a small quantity or just starting the business.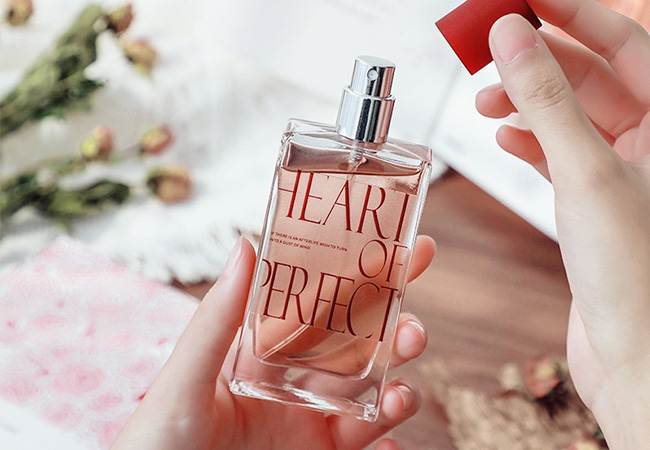 2.Perfume glass bottle
Perfume glass bottle from 10ml to 200ml is available. The shape can be customized,heart shape, round, square,and unique shape for your choice.The color can be also customized, pink, orange,blue, gradient color,black, shiny or matte to meet your brand request.The bottom of the bottle can be made thicker,it will look be perfect and meet the high end market.The glass bottle is non-toxic,tasteless,transparent,beautiful,good barried and common raw materials. Glass bottles have the advantages of heat resistance, pressure resistance and cleaning resistance, which can be pasteurized at high temperature and stored at low temperature.The perfume neck has 13mm, 15mm and 18mm, it will be choice suitable sprayer to assemble. And the bottle surface is smooth, there is no black dot or other impurities, the craft of coating will be perfect. Glass bottles and cans are transparent, easy to clean, good chemical stability, no pollution of the contents, high air tightness, excellent storage performance, rich in shape and decoration, can be recycled many times and rich in raw materials.pure and uniform, no sand, stripes, bubbles and other defects. Colorless glass has high transparency; The color of the glass is uniform and stable, and it can absorb light energy of a certain wavelength.The manufacture of glass bottles and cans mainly includes preparation, melting, molding, annealing, surface treatment and processing, inspection and packaging and other processes.
How to inspect the quality of the glass bottle ?
Inspection: find out the defective products and ensure the quality of the products. The defects of glass bottles and cans are divided into two categories: the defects of glass itself and the defects of bottles and cans. The former includes bubbles, stones, streaks and color errors; The latter are cracks, uneven thickness, deformation, cold spots, wrinkles and so on. In addition, it is also necessary to check the weight of the bottle, the capacity of the bottle, the size tolerance of the bottle mouth and the bottle body, the resistance to internal stress, heat shock and stress relief. Beer bottles, beverage and food bottles, etc., due to high production speed and large batch, by visual inspection has been unable to adapt, there are automatic inspection equipment, such as preselector (check the shape and dimensional tolerance of bottles and cans), bottle opener, crack inspector, wall thickness inspection device, extrusion tester, pressure tester, etc